Green Burial Council Criteria for approval of Green Funeral products.

Each GBC approved product is given a rating based upon the following additional criteria that is met:
•Finishes and adhesives do not release toxic by-products within the facility where product is manufactured.
•Finishes and adhesives do not contain plastics, acrylics, or similar synthetic polymeric materials.
•Shell is made from materials harvested in an environmentally sustainable manner as certified by a third-party trust provider recognized by the GBC or from reclaimed/recycled materials.
•Product utilizes a liner that is comprised of "organic" material as certified by a third-party trust provider recognized by the GBC.
•Neither the transportation of any component material to manufacturing location nor the transportation of final product to consumer exceeds 3000 miles.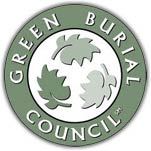 1 criterion met earns a "one leaf" rating

2-3 criteria met earns a "two leaf" rating

4-5 criteria met earns a "three leaf" rating


---
CATEGORY TWO: Post-Mortem Chemicals
Products cannot contain chemical ingredients that are toxic or otherwise classified as hazardous with accompanying mandatory reportable limits of exposure as defined and listed by the Occupational Safety and Health Administration (OSHA). An exception is made for generalized nuisance limits for dusts and mists.
Products cannot contain chemical ingredients that through their intrinsic course of action, evolve or release a chemical ingredient as previously defined.
Products must contain only chemical ingredients that are fully disclosed on a Material Safety Data Sheet (MSDS) and cannot contain any chemical ingredient described as a "trade secret."
In any case of conflicting evidence or equivocal documentation, the Green Burial Council reserves the right to deny or suspend its certification.
---
TSA Criteria. U. S. DEPARTMENT OF HOMELAND SECURITY
Transportation Security Administration.
WASHINGTON, D.C – The Transportation Security Administration (TSA) today announced a partnership with the nation's funeral homes to ensure that cremated remains are safely and securely transported through airport security checkpoints.
"Americans have recognized the need for measures that have dramatically increased aviation security since the events of September 11th," said Ron Sokolov, Executive Director for Customer Service and Education. "As more Americans transport cremated remains, TSA and the nation's funeral homes are striving to educate the public on the best method to move cremated remains through checkpoints in a manner that is both respectful to loved ones and secure."
To maintain the highest level of security, TSA determined that documentation from a funeral home about the contents of a crematory container was no longer sufficient to allow the container through a security checkpoint and onto a plane. Since February of this year, all crematory containers must pass through an X-ray machine. If a container is made of a material that prevents screeners from clearly seeing what is inside, the container will not be allowed through the checkpoint. Out of respect for the deceased, screeners will not open a container, even if requested by the passenger.
TSA recommends that passengers transport remains in temporary or permanent "security friendly" containers constructed of light-weight materials such as plastic or wood. Temporary containers are typically available from funeral homes and offer a security friendly means to travel by air with a crematory container. Once the passengers complete their travel, they can visit their local TSA's Funeral Home Partner who will transfer the remains from the temporary container to the permanent container free of charge. The complimentary "Remains Transfer Service" has been embraced by the funeral industry and already many funeral homes have requested to become partners in this important customer service effort.